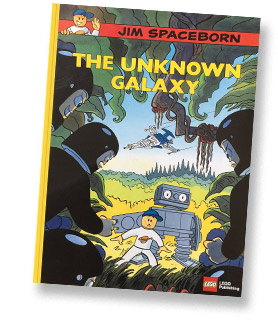 Original page from LEGO's Jim Spaceborn comic book "The Unknown Galaxy" (published 1986). Art by Frank Madsen. Page 20 of 51.
During 1984 through 1987, Frank wrote and illustrated three 48 page comic books with Jim Spaceborn. The first two, "The Unknown Galaxy" and "The Kidnappers from the Swamp Planet", was published in several languages, but the third one never saw publication due to LEGO closing their publishing division in 1987.
Ordering from our shop: All prices are in Danish Kroner (1 DKK is appr. 15 US cents). We ship all over the world. All orders are sent in cartboard mailing tubes as standard mail unless otherwise agreed upon. If you want your illustration signed by the artist at no extra cost, please state so in the comment field upon ordering. If you have questions or if you are looking for a specific illustration, please contact us.