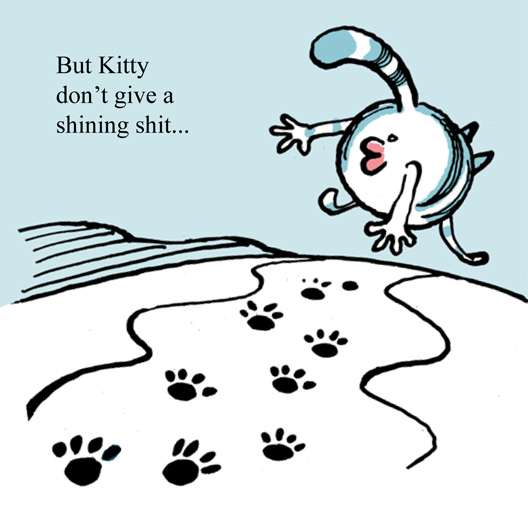 The cat Kitty's long and furry way from literary parody on children's books to full-blown cult classic in its own right:
Each friday my wife Sussi Bech and I make fun of the literary world in our comic strip "Eks Libris", published since 2009 in the book supplement of the highbrow national newspaper Weekendavisen. The characters populating "Eks Libris" are pompous authors, cute librarians, worn-out editors and happy book readers in general. But somehow we also ended up with a character called Biker Joe. The first time the readers met him, Biker Joe was visited in prison by his ghost writer trying to get hold of his life story. It was three strips making fun of Danish publishers' fashion of producing biographies idolizing bikers, Hells Angels and people like that. But Biker Joe stayed in the strip and he got a wife (a former hooker, very fond of plastic surgery) and a son (Biker Joe, jr.), who is very fond of comics and wants to be a comics artist himself ("I don't want to end up being a loser like you, dad!").
A cat with big balls
One day we had Biker Joe meet with his publisher, suggesting a new children's book project introducing the male cat Kitty, written and illustrated the way Biker Joe thought a tale for children should be told. The "Eks Libris" strip contained the entire story of Kitty With The Big Balls complete with text and pictures. Kitty is a proud, free but somewhat lazy cat with his scrotum intact. Biker Joe's book told Kitty's struggle to survive in a hostile and unfair world that demands that he work for food. In the strip's last picture Annika and Lise, editors at Buch Binders, turn the project down (as editors always do).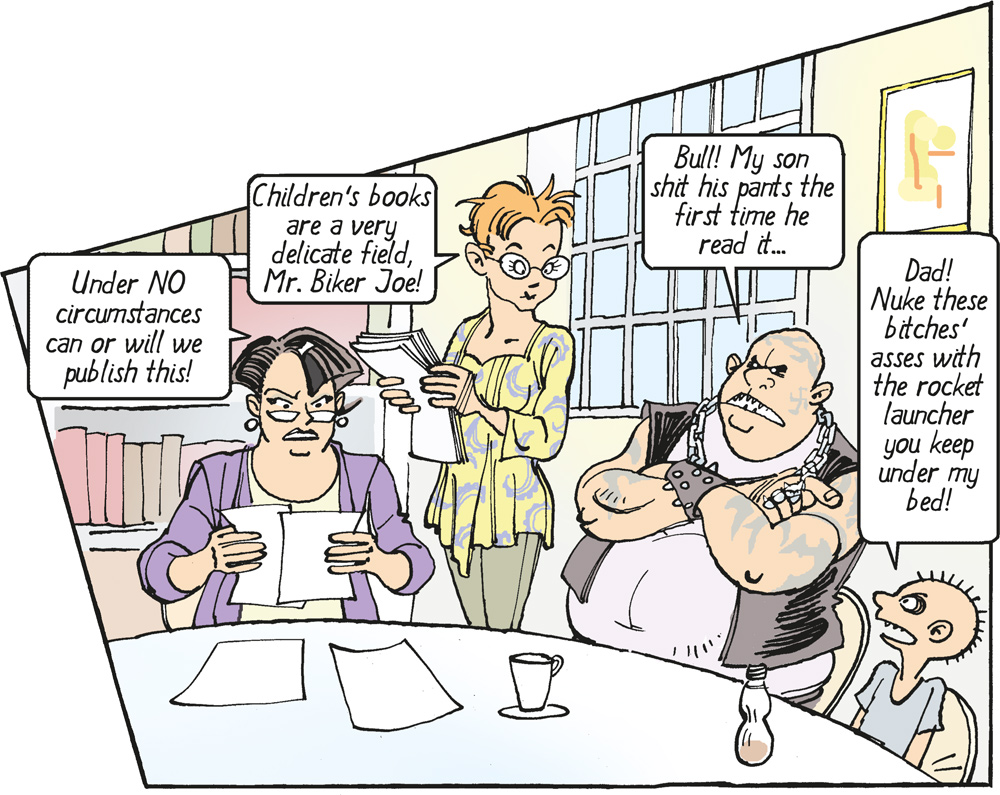 The Kitty strip did very well on facebook after being published in Weekendavisen so when Sussi and I planned our visit to Copenhagen Comics Con the year after, I decided to publish Biker Joe's book about Kitty the Cat myself. Sussi thought me crazy, but when the pallet arrived from the printers a week before the festival, orders poured in. Arriving at the festival six days later, the little cat book was already halfway sold out and the rest of the print run was bought (mostly by women) during the first festival day! Since then it has been reprinted twice. 90 percent of the customers being adult women, who say that Kitty is fun and "sehr geil" (german fan reaction).
Buy on Amazon: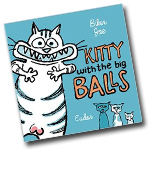 Kitty With The Big Balls is now available in English for Kindle reader/app. It is quick and fun read – and a great thing to show your friends on your mobile phone!
Click to buy Kitty With The Big Balls on Amazon!